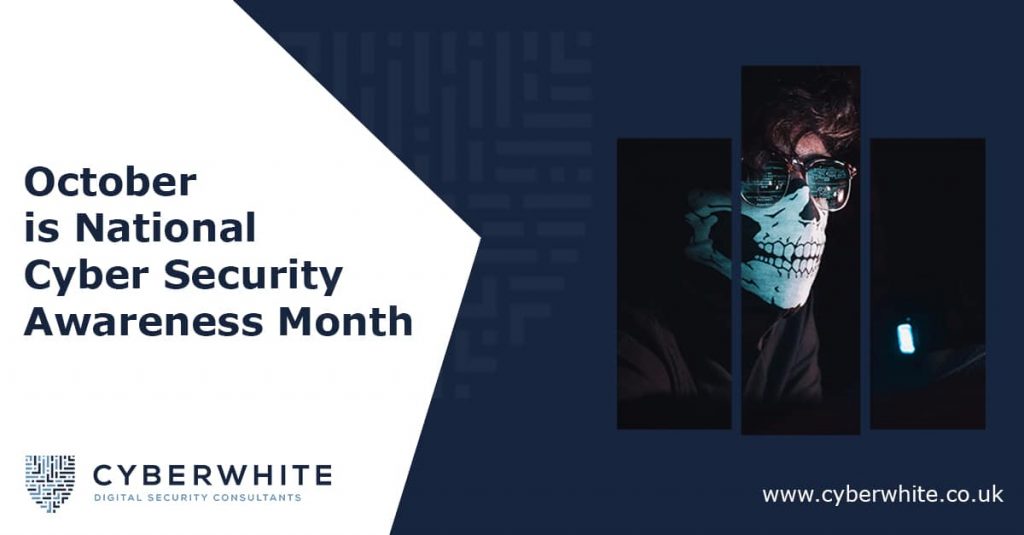 There's no denying that the internet is a significant part of our lives, both personally and professionally.  Utilising the internet allows us to work, socialise and shop online. However, it is always prudent to protect ourselves and our organisiation as cybercriminals are also able to enjoy the same ease of access to the internet.
Throughout October, CyberWhite are helping to focus on National Cyber Security Awareness Month, and as such, we're advising you to #becybersmart by emphasising what you can do to help your business be safer online.
Increase your Cyber Security with these helpful tips :
Increase your online privacy – By implementing multifactor authentication and requesting that employees use strong passwords (containing letters, numbers & special characters), it will increase your online protection.  Employees should also be reminded to not use banking apps / access personal financial information or making personal online purchases from an unsecured public network.
Staying secure when working from home – As more employees are working from home due to covid-19 measures, they should be increasingly vigilant about online fraud.  Business and personal information should be treat with care; you should avoid sharing details with unfamiliar parties especially if not connected to your organisation's server network.  Ensure that any security software on your devices is up to date because it can just take one employee's details to be compromised before a more serious data breach effects the business.
Using Social Media Responsibly – While social media is a great way to connect with clients / friends / family, it can also allow scammers and cybercriminals to target your employees.  Remember to only accept friend requests from people you trust or have mutual connections with.
How can CyberWhite help your business protect you and your employees online?
CyberWhite has specifically developed their Cyber Essentials service for this reason. Developed and launched by the National Cyber Security Centre (NSCC), its objectives outline the basic security controls with organisations to help mitigate common cyber security risks.
Our team develop specialised packages working directly with you to deliver detailed security guidance whilst preparing your workforce through education and awareness training to meet the standard achieving certification.
For more information on our Cyber Essentials scheme, please speak to us on 0191 5623228 or click here – https://www.cyberwhite.co.uk/cyber-essentials-scheme/