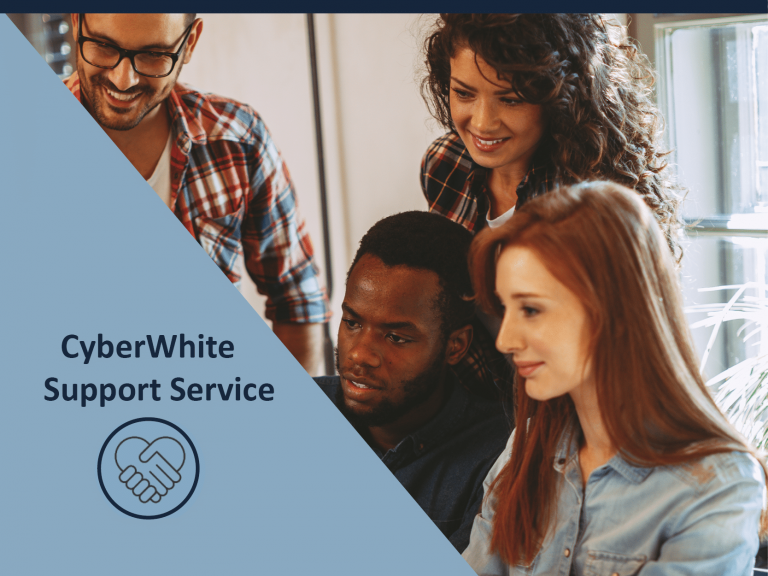 Overview
Today, organisations are expected to be agile and dynamic, delivering increased value and of course, unparalleled levels of customer service.
In the background, the cyber threat landscape continues to evolve, presenting increasingly complex challenges. These threats are designed to limit the effectiveness of organisations through either interruption of service, exfiltration of data and financial or reputational harm.
The CyberWhite Support Service (CSS) helps you to address these challenges. Our experience in developing bespoke risk mitigation strategies, enable us to work in partnership with you, supporting you to secure your most critical information assets.
Background
The Best practice states that organisations and executive management teams should have access to security advice and expertise.
A major challenge that many organisations face, is sourcing and securing this advisory support.
This challenge is often further exacerbated as governance, risk and Compliance often falls outside of the skills and remit of many traditional IT Teams.
The CSS solves this problem by providing a wide range of valuable benefits. It provides assurance that the team of experts at CyberWhite are available to support your organisation wherever information security expertise and resource may be required.
This is all available for a simple, fixed monthly cost. This includes providing access to subject matter experts and technical experts in the fields of information security, data security and cyber security.
CSS Elements
Our CSS supports with a host of various cyber security elements such as:
Incident Response
The team at CyberWhite can assist in reviewing, building or supporting a CIRT (Cyber Incident Response Team) within your organisation.
vCISO
The CyberWhite virtual Chief Information Security Officer (vCISO) takes a hands-on approach that goes beyond just a technical engagement.
The Dark Web
We identify, analyse and proactively monitor your organisations brand and domain, alerting you in real time the moment any data appears for sale on the dark web.
Security Scans & Penetration Testing
Assessing the robustness of your environment through regular scans, vulnerability assessments and penetration tests is a key element of all good security programs.
Why CyberWhite?
According to recent research from Kaspersky, the three most persistent threats post COVID-19 will be Phishing/Social Engineering, Ransomware/Malware and Lack of Awareness or end user mistakes.
At CyberWhite, we provide mitigation strategies for each of these threats. These strategies include technology reviews, process flow reviews and user awareness and training. Several of these are key components of the ISO27001 standard. Comprehensive technology reviews can include reviewing existing solutions for robustness and security including how applications link with other applications and of course, the security element is verified by Cyber Essentials and Cyber Essentials plus certification.
Contacting Us
Advice and support is provided in various ways including email and telephone.
Tel: 0191 562 3228
Email: info@cyberwhite.co.uk
Standard support is available during normal business hours
(excluding public holidays in England).
Monday – Friday
9:00am – 5:00pm