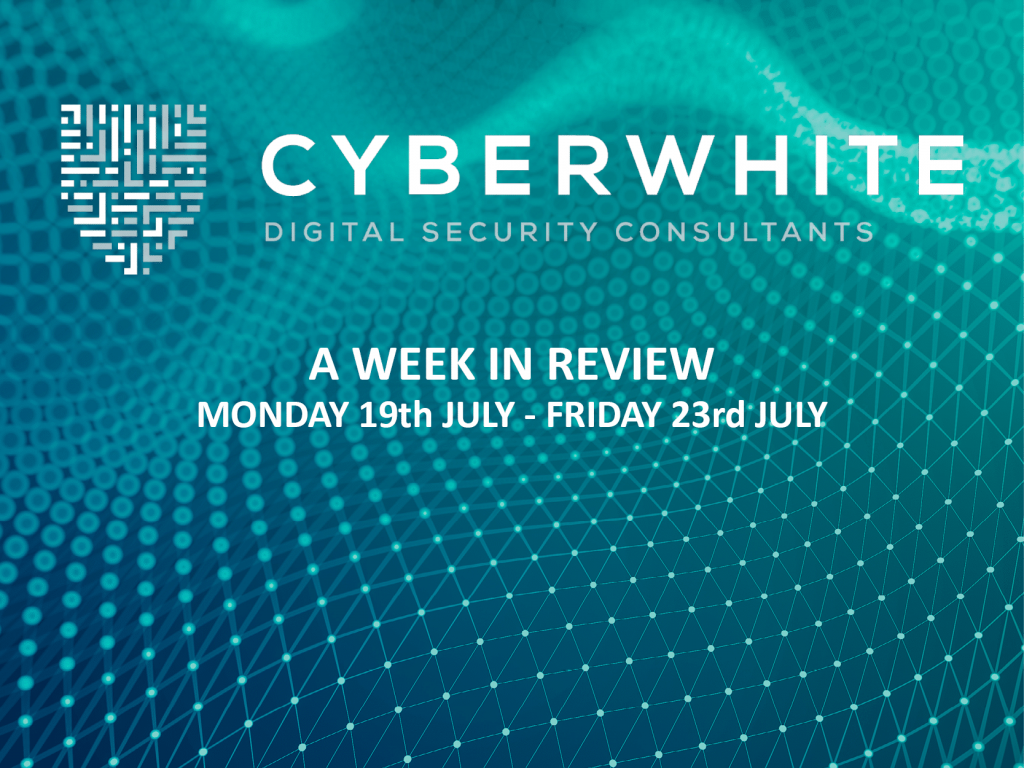 Welcome CyberWhite followers to our latest week in review.  We'd like to first of all thank all of our current and new followers. It means a great deal to us that our security advice is able to reach you.
It would be fantastic if you could lend us a helping hand simply by liking our posts, commenting and even sharing.  It all makes a difference and will help our expert advice reach more eyes and ears.
We brought you plenty of exciting news from our partners last week, including news of an upcoming Zero Trust discussion series with AppGate, a free eBook from new partners RiskXchange, and an interesting security report from vulnerability scanning experts, AppCheck.
To catch up on these stories, please browse our highlighted round up of CyberWhite's activity during the past week.
If you have any questions for us, or if you have any feedback on our weekly reviews, please get in touch, we'd love to hear from you.
Important news regarding the AppGate
discussion series
Last week we announced that CyberWhite will be collaborating with AppGate to bring you a series of discussions around Zero Trust architecture.  Whether you are new to the world of Zero Trust or would like to refesh your knowlege, these talks are for you.
For more information or to register your place, please visit our event sign up page below.
Get your FREE eBook from our vendor
RiskXchange
Previously we announced the exciting news about our newest vendor to join the CyberWhite line-up – RiskXchange.
RiskXchange have kindly sent us a free eBook available for you to download.  The eBook covers third-party risk assessments and when you should be conducting them on your third-party vendors to ensure that their risk factor scores are in-line with your own organisations.
Read about Heimdal's
PAM Solution
Our trusted partners, Heimdal Security have created in house, a sophisticated system for Privileged Access Management & Application Control.
Heimdal's solution allows you to easily escalate and de-escalate the user rights within your organisation.
Click the link below to read more about Heimdal's PAM product offering.
How do AppCheck stack up against
OWASP's top 10 vulnerabilities?
What is the OWASP Top 10?
How does AppCheck stack up against the top 10 vulnerabilities?
AppCheck have delved through the OWASP (Open Web Application Security Project) current list of top 10 most critical web application security flaws.  In their findings you can see how AppCheck's solutions help keep you protected against the latest threats.
Who are CyberWhite?
We are expert digital security consultants, as we proudly serve our clients throughout the North-East as well as throughout the UK.
We deliver a wide range of services and solutions to protect your organisation against cybercrime. Click below to find out more about what we do and the services we can provide.

Find out more about CyberWhite

We hope you enjoyed our week in review.  If you have any questions at all about CyberWhite, our people and our services, please get in touch.
You can call us on 0191 545 1010, or you can contact Phil Anwyll, our Marketing Executive via email at info@cyberwhite.co.uk